2014:
New album released by Jigsaw Records!
"Une si longue attente" is our fourth album. It's of course a great album that I recommend particularly if you like
Stereolab

, the Young Marble Giants, English pop, Serge Gainsbourg or Tom Jobim!
It can be listened to/bought on Spotify, Deezer, Amazon, Itunes, Bandcamp, from , etc.
Here's a picture of our gig in Manchester in February 2014:
October 2013:
We've worked quite activly on new songs and also on a another project (more soon) in the last year.
We've also played four times this summer. First, at the end of an analog photo contest, then at Tierney's, New-Jersey, supporting Glenn Mercer from the Feelies

(one of my heroes!). The day after (Bastille day!), we played at the Cake Shop, New-York. In August, we played in the park of a beautiful 18th century house. Next gig? Manchester, with the Blue Orchids!
NEW ALBUM SOON!!! STAY TUNED!!!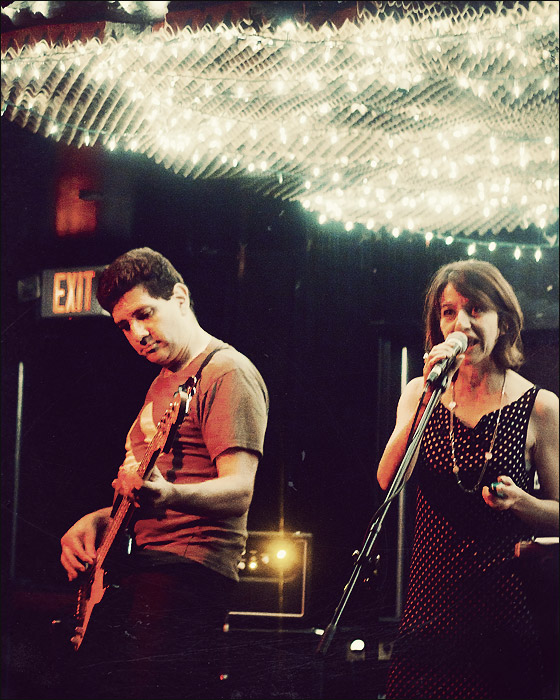 Watoo Watoo live at the Cake Shop, New-York City, July 2013 (photo: Alexandre Korchia)
July 2012:
Our latest CDep, Le tourbillon, is almost sold out (but ask us if you want to buy one)... You can now buy it online, for the ridiculous price of 1.50$ (1,20€) on our bandcamp.
June & July were cold & grey in Bordeaux, so we had time to finish new songs. We actually have enough songs for a new album now, but still need to find a record label.
Last, but not least, we have a new friend, Yannick, with whom we have started working extensivly on songs. Sometimes he will brighten up some Watoo Watoo songs, adding lush arrangments, sometimes we'll add lyrics & vocals to his songs. Here's a great new song which falls into the second category.
January 2012:
Just in case you missed it, Le tourbillon ep was released last month on ; no need to add that it' a wonderful pop gem at super low price. More information on mk's blog. Three videos have also been recorded for the release of the CD.
November 2011:
Because of (or thanks to) Watoo Watoo facebook page, this website isn't updated very often. SO I haven't announced gigs, new songs, etc., here for more than two years. But today's news are excellent, so here am I. We're proud to announce the
May 2009:
Last december, we moved to a new house. Because of that, I didn't have so much time to make new music & to update our site. Yet, I finished a song in March & I'm working on new stuff. We played 2 gigs in the last months, including one at home. We want to play, so don't hesitate to get in touch with us if you can help! November 2008:
It is sure that myspace makes me lazy, & I really should update the news page more frequently. We have recorded a few songs (including a Young Marble Giants cover), & we have played a couple of gigs since last update. We should play on the 20th of December 2008 & 7th of February 2009 in Bordeaux (more soon, I promise). Also, we may play once in Paris in the next months.
We have become e-friends with Spike, who was the first to released some tracks by the YMG 30 years ago, & who played in several bands, including Weekend (one of my favorite bands) & Alison Statton & Spike. He has kindly accepted to play the guitar on our cover of the YMG song (Searching for Mr Right); also I have written lyrics on 2 of his songs & Pascale has sung on them.
By the way, you can also become our fan on facebook!
August 2007:
La fuite needs you! Sales for our new record are really disappointing, we need more people to buy it (& it's so cheap!).
I've written music (no lyrics yet) for 4 new songs, but what's the point if noone buys the cd?

June 2007:
La fuite is out! There are 11 songs in this new record. I think it's very good but maybe I'm a bit biased! You should buy it, we need your support.
Thank you.



April 2007:
I have updated our myspace blog more often than this site. This is a bad thing.
Since the last post, we've been dropped by SSR (because they have financial troubles) but we've signed with a great new English label, Letterbox Records! The new record, "la fuite" will be out on the 11th of June 2007. There are 11 songs that I'm very proud of. See our bio or the label's website for more news about us & the CD.
We have a few songs out on some mp3 & CD comps. These comps are really nice. Check our discography.
There's an interview of Michaël (ie, me!) on Mira el Pendulo. If you don't speak Spanish (just like me), you can read it in English here.
In January & March, we played live for the first time in 8 years! That was fun.

Here are my faves for 2007 (in French!):


Concerts




1. Brisa Roché

-Angouleme, CDLD. Parce que c'est une déesse.
(je n'ai pas encore retouché mes photos du CDLD mais elles sont moins bien car je n'ai eu droit qu'à la 1ere demi-heure)



2. Fishbone

- merignac. Dire que j'ai failli ne pas y aller! Une énergie & une démence incroyable. Les photos d'un copain :



3. Buzzcocks

- Athenes. Quel bonheur d'aller à Athènes pour le boulot (heum...) & d'arriver le soir du concert d'un de mes groupes fétiches. En 77-79 je n'y étais pas, mais je peux dire qu'en 2006 c'est presque aussi bien en live.



4. Katerine

- Bdx, Eysines. Je ne sais pas si cet homme est fou, mais il est génial. Le concert d'avril était supérieur à celui d'octobre, trop rôdé.



5. Mathieu Boogaerts

- St Médard en Jalles. Un concert drôle & poétique, de beaux morceaux & de supers musiciens.



6. Stereolab

- Cigale. Dernier album un peu décevant, mais bon, c'est stereolab!
(ben ouais, j'ai pas pu assister aux concerts de b&s notamment. Sniff)

>

albums

- top 10 (11)
Bcp de vieilles têtes car année moyenne... Les 2 1ers sont loin devant, le 3e est egalement assez loin devant la masse du 4e au 10e, que j'aurais pu classer dans un autre ordre.



1. Belle & Sebastian

- The life pursuit. Un tournant plutôt glam 70s, mais les compos sont toujours au top.


2. Charlotte Gainsbourg

- 5:55. Je suis sur le cul car je n'aime pas Air (mais j'adore Serge).


3. Morrissey

- Ringleader of the tormentors. Parce que c'est le Moz!


4. Lloyd Cole

- Antidepressant. Album "classique" de Lloyd, bien en forme.


5. Stereolab

- fab four suture. Il manque un petit quelque chose quand même par rapport aux autres albums...


6. Buzzcocks

- flat pack philosophy. 4 ou 5 des morceaux sont sublimes.


7. Holden

- Chevrotine. J'aime bien quand leur pop se teinte de jazz.


8. Au revoir simone

- Verses of comfort, assurance & salvation. joli mix de pop & de synthés.


9. Prince

- 3121. Je préfère le précédent, mais celui-ci me rappelle pas mal la fin des 70s.


10. Gypsophile

- Assunta. Je préférais leur période pop/bossa, mais il y a toujours de beaux morceaux & le mix entre chanson & free jazz est intéressant


11. Jane Birkin

- Fictions. A part le morceau de Cali (beurk), il y a des choses étonnantes.

Auraient pu etre nominés : lio (si si!!!), zutons (moins percutant que le précédant), Math and Physics Club (du sous b&s), nouvelle vague (ça tourne en rond), Cibelle (electro bossa), koop (mix de jazz & d'electro, un peu transparent par rapport au précédent), Beck (bôf bôf, comme souvent)...



ep




1. b&s

- The Blues Are Still Blue


2. b&s

- Funny Little Frog


3. b&s

- White Collar Boy


4. The Airfields

- Laneways
Il doit y en avoir d'autres mais bon. j'ai pas tout écouté.

August 2006:
Oh, I can't believe I haven't updated this page for 6 months! Shame on me.
Maybe because I have opened a Watoo Watoo page on Myspace. Myspace looks ugly but it's a good way to meet new people & also to broadcast/spread our music/universe.
This is also because I made a lot of music, I wrote 3 new songs & I finished 3 older songs between February & May.
By the way, we have found a label! Skipping Stones is a good pop label: nice people & good bands, so we're very glad to be in the family! Hopefuly the record will be out in autumn 2006. We have 10 ou 11 songs; of course I love them all.
It took some time to encoding & to mastering, but here are they: 2 songs we played live on TV in November 2004.
January 2006:
Hi all, first, this is my 2005 top 10 :
1. brisa roche - the chase. Fantastic first album by this cute american girl who lives in Paris. A great mix of 60's pop, rock, cinematic & jazz.
2. philippe katerine - Robots apres tout. This man is mad, this record is insane, full of weird groovebox & silly lyrics 3. albin de la simone - je vais changer. This is how good 'chanson française' can be.
4. julien baer - notre-dame des limites. i adore this album even if it's not as fantastic as his 1st two, which were released last millenium. Betwen chanson, funk, pop & reggae.
5. morrissey - live at earl court. We would have preferred more songs from his 1st solo album, nevertheless this is a real great live record, Morrissey sings better than ever.
6. saint etienne - tales from the turnpike house. This is a beautiful pop album, don't expect to dance much on this saint etienne record... but expect a big smile on your face.
7. mathieu boogaerts - michel. Stripped down, minimalistic french chanson record. You feel mathieu is sitting next too you whispering slowly his beautiful & sad song.
8. alain chamfort - impromptu dans les jardins du luxembourg. 1st live record for this 57 years old French crooner. He has written some wonderful songs in the last 30 years, including the hit "manureva" with serge gainsbourg. His voice when he sings live is so-so, but the songs are perfect and the brit-pop arrangments are very effective.
9. rosa passos - amorosa. Portuguese bossa nova singer, her voice is so sweet.
10. the clientele - strange geometry. as always, they sound between felt, any 60s obscure pop band, & galaxie 500.
11. tarwater - the needle was travelling. I prefer their earlier recordings, but their mixture of new wave, pop, post rock & idm is still really nice.
(ok, that makes 11). 2nd, we played 3 songs at a concert that some of my students organized last month. that was great fun. We played one song from "le fumalin" (l'attrait) & 2 new songs (ne pas croire & perdu). I was at the bass, pascale sang & we had a backing track playing on a computer. 3rd, I've written lots of new lyrics. This will help me finish some old songs waiting in my hard drive. 4th, Didier Duclos, who has already played guitar on many of our songs, will play again with us. He now has a computer with a decent soundcard and an internet connection (he's in paris, we're in bordeaux, 600 km s-w). 6th...
September 2005:
* Two old songs to download for free:
. the acoustic version of "the Golden Castle", that was released on the "seven summers" compilation CD
. a cover of Alain Souchon: "l'amour en fuite". This is a 1978 song he co-wrote with Laurent Voulzy; this song was used for the soundtrack of François Truffaut 's l 'amour en fuite (love on the run). Great movie, great song. This was recorded with Gypsophile; in 2001, we recorded 4 covers (Brassens, Gainsbourg, Sheller, Souchon) together that we planned to release on any label but we never found one :(.
* We have a new song out on a free e-compilation: not'cd 2

* We're looking for a label, I've sent some demos




* The videos will be ready for you to watch by the end of October (see below for more details)


* We're working on new songs
* I've completely redesigned my photo website & I've added lots of pictures, it's here.

July 2005:
* I'm sorry I've been silent for so long, this is a shame. Expect lots of major updates in september. New songs to download, 4 videos to watch (songs we played on the TV show in november), new pictures, blahblahblah.

January 2005:
* Happy new year! My 2004 top 10:
01 Luna - Rendezvous. One of their best records.
02 - William Sheller- Epures. Piano+vocals, the songs are fantastic.
03 - Jean-Francois Coen - Vive l'amour. Nice surprise, this is electronic pop "chanson française".
04 - Morrissey - You are the quarry. He's back, what a voice!
05 - Stereolab - Margerine eclipse. As usual.
06 - Keren Ann- Nolita. A bit more cinematic than her earlier records. It would have been perfect with 1 or 2 strongs hit singles
07 - Nouvelle Vague - Nouvelle vague. Nice bossa covers of (mostly) great 80's songs.
08 - denim - denim take over. Well, this is Lawrence.
+ 2 compilations never released on CD before :
09 - Bossa Galore - Lounge at Cinevox. Italian 70s soundtrack
10 - Volga select presents - So young but so cold. French early 80's cold wave

November 2004:
* We played 4 songs & I was interviewed at a local (Bordeaux) TV show. The songs are: Perdu, Ne pas croire (two new songs), the golden castle (from the "Picture of a Lost Friend" CDep) and L'attrait (from "Le fumalin" CD).

October 2004:
* I've been so busy!
Photo:
1. There an exhibition of 12 of my photographs (Bordeaux by night, St-Emilion and the ocean) hairdresser's in Bordeaux
2. I did a "photo marathon" & one of my photographs was chosen; it will be exhibited at the fnac shop of Bordeaux
3. I'll be in Paris by the end of October I should work with 3 models. Hopefuly I'll make nice pictures
Music:
1. 4 of our new songs have been remastered by Seoh. We'll send them asap to record companies.
2. 3 other songs are finished. 3 or 4 other are nearly done. I'll try to have them ready by the end of the year.
3. We plan to work with an american label to release some rare Watoo Watoo songs and some remixes. More about this soon
4. We'll soon make a video for a DVD compilation. More about this soon
5. Last but not least, we'll soon play 4 songs & we'll be interviewed at a local tv channel, tv7 bordeaux! The show will be recorded in mid november, to be broadcasted by the end of november. I'll put the videos on the website asap.
February 2004:
* What a shame I haven't updated the news earlier. Shame on me. I see three reasons: I worked a lot, I made a lot of photos, & I've been a bit sad because of the commercial failure of le fumalin, still our best release so far! Ok, let's forget this. Here's my 2003 top 10:
1. Belle & Sebastian - dear catastroph waitress (no one can beat them)
2. Weekend - archive (it's a reissue of the fantastic post young marble giants band)
3. Watoo watoo - le fumalin (so what, i love my record. that's better than noone ;) )
4. Dean Wareham & Britta Philips - l'avventura (really lovely)
5. Alain Chamfort - Le plaisir (french famous singer - this record is really a pop gem)
6. Elie Seimoun - chansons (he's a french humorist, just released his 1st lp, that's bossa)
7. Oberkampf - Animal factory (the come back of the best 80's french punk band)
8. Kerenn Ann - Not Going Anywhere (usually people who sound like nick drake are not as good. i love ND btw)
9. Gypsophile - Eloquences des fatigues (less pop & more "free")
10. Black Box recorder - Passionaia

I've worked on new songs & finished some older ones. We now have 2 thirds of the next record ready, if ever we find someone ready to release it.

July 2003:
*
* You can now buy le fumalin at many distros on the net -but the best is still to order it directly from us! take a look at le fumalin page
* Read a really nice review of le fumalin at the italian indiepop pages.
* We're working on 8 new songs. Expect something even more different. One of the songs has a trip hop feel, another one sounds a bit like lali puna. Perdu is a song that sounds typically like late 60s pop, with lush orchestral arrangments.
* No news from Quince-Records
* If you want to know more about Michaël's many projects, click on my marketing-music-gainsbourg-statistics link.

March 2003:
* Sorry for not updating the website sooner. But a new baby in a new city makes a big difference.
Les disques maladroits will release le fumalin in a couple of weeks.
I'm working on at least 5 new songs, all sound different.

September 2002:
* Sorry for not updating the website sooner. What have we done lately? Well nothing very interesting, musically speaking.
* I'm working on new songs. Some are purely indiepop, some are more electronic... My biggest problem is that I haven't been able to write decent lyrics for 18 months! I have to work on that.
* Our cat Booly died in my arms the day I came back from holidays (9/8/02) :-(((
* We'll leave Paris to live in Bordeaux in 2003. I'll work at the business school as a marketing researcher/teacher
* Pascale is pregnant; Our son Antoine is happy.

March 2002:
* Big financial problems for Dogprint: the label has to stop its activities for a while :-(
* I had some time in march so I recorded again 2 very old Watoo Watoo songs: 'les reflets' & 'midnight song part 2'. They sound jangly & !pop!. The former will be released on a comp done by people from pinoycentral/the bridge (philippins) & the latter by Quince Records.
* Quince Records will release the 4 songs cdep we've done with Gypsophile (see below) later this year.
January 2002:
* Hoorray, I got my doctoral thesis (PhD), so now you call me Doctor.
* Sorry I didn't write anything sooner but it's difficult to do nothing ;-) I just took a break after I finished the thesis.
* Quince (a Japanese label/distributor) says they want to release the songs we've recorded with Gypsophile (see June 2000 for more details)
* I can't find a label for my electronic side-project, booly. But one day I will.
* We have covered a Cat's Miaow song for a tribute comp. The song is "peut-être que rien jamais". Pascale hates it, I love it. Expect classic guitars, mellotron, hammond organ, & a smooth samba rhythm section.
* We're working on a cover of Donovan's "Jennifer Juniper" for a tribute com released by Darla. Expect a soft electronic melody with a jungle beat.
* We're working on new songs. Unfortunatly, I haven't written new lyrics yet. One sounds a bit like the Pale Saints, another one is a typical WW song. A 3rd one, my favorite, is probably quite inspired by the electronic sounds of Lali Puna.
November 2001:
* Sorry I've been quite silent these last months. I was working very hard on my doctoral thesis. Now it's printed, I'll present orally on the 30th of November. I had no music related activity between July & the half of October. Now I'm back to life. I'm working about my electronica side project, booly. Also, last week, I wrote 2 new Watoo Watoo songs (well, no lyrics yet). I hadn't written any songs for Watoo Watoo since last December.
* With Lenny from Dogprint, we're working on the release of the US version of our new CD, le fumalin. It should be on the way to the pressing plant within a month.

July 2001:
* We've been interviewed on a big website located in the Philippines, Pinoy Central. Click here to read our biography & to access the interview -you'll have to click on "Watoo Watoo: behind the Golden Castle" at the bottom of the page
(thanks to Dale & Mario!)

June 2001:
* We made a photo session with Sly; we got some very nice photos that we'll upload one the site one of these days

May 2001:
* I finally got my copies of 'le fumalin', our new cd, released by Clover Records. I think this our best work to date; & Masako also did great artwork.

Hem, it's probably our most ambitious record to date. As always, it features some indiepop songs, but that's not all... There are a couple of bossa songs, a jazzy pop waltz, a pure 60's spoken word upbeat groovy track, a piano only instrumental, an electronic pop song, & some acoustic versions of old songs as bonus. Some songs are decidedly slow & melancholic, while some other are really fast (up to 200 bpm, which means very fast). It sounds quite diverse, but I think it's a consistent indiepop album with some jazzy & 'chanson française' hints.
It really took me a lot of time to write & to record this album. I had to learn new guitar chords ;-) & I pushed my computer to its limits, writing better & more subtle arrangements than usually.

Didier from Christine & Guillaume from Gypsophile played the guitars, Dominic Drain played the piano on 2 songs & co-wrote the instrumental track with me, & Pascale sang with her angel voice. I did all the rest: real bass, drums loops & programming, organ, sampled piano, sampled mellotron, sampled harp, emulated theremin, emulated analog synths, sampled vibes, & sampled glockenspiel.

* The gig is Gent gas been canceled. We're still looking for gigs, but we don't have too much time though.
* I got my copies of the Tribute to Galaxie 500, released by Elefant Records. We cover the magnificent & sad 'When will you come home'.

April 2001:
* Our new CD, 'le fumalin', is out now on Clover Records. Clover releases it in Asia. Dogprint will release it later this year in the rest of the world... More very soon.
* We'll play in Gent, in Belgium, on the 24th of May (2001). Guillaume from Gypsophile will help us with the guitars & he will also support us.
* Our last Cd, Curiosités?, is very good but we have sold very few copies.
* The 7" with Gypsophile is nearly done. Just a couple a vocals parts by Pascale still have to be recorded. Unfortunatly she's had a lot of throat, cough, etc. troubles lately.
>

January 2001:
* At last I got my copies of Curiosités?, our 1st full lengtgh CD.
>* Let me tell you it's a great record. Want to one?
* We've just finished the recording of our next CDlp, hopefully out before the summer. More soon.
* The 7" with Gypsophile is nearly done.

November 2000 :
* Curiosités? is still not out. The CDs were pressed, but I wonder whether they haven't got lost in the ocean or anywhere else.
* We have lots of songs ready for a new CDlp, which should be out in March. We found not one (1), but two (2) new labels. You'll know more very soon
* Last, I (Michaël) am working on a electronic side project. A CDep should be out one day.




>
June 2000 : Our 1st full lengtgh CD is done.
The name is Curiosités?, 12 songs, out on BBPTC.
It was designed to be somehow strange, but not too much.
3 covers (Gainsbourg, Wedding Present, Felt); some weird songs (including 2 completly electronic instrumentals songs , something new for us); some songs already released on comps; some news songs.

& what else???
We've recorded some new songs since last summer. Some are completly electronic. We may release them under a different name. Most other are very pop (don't worry ;-), some have a jazz, bossa or 60's feeling . Working with the computer helped a lot, the sound is really nice & the arrangments are lusher.

We're working on a 4 songs 7" with Gypsophile. Both bands will play & sing on each song. the songs are covers of original masterpieces by Gainsbourg (one more time), Souchon, Sheller & Brassens.

Pascale just got a new job, I think I should finish my doctoral thesis one day, & Antoine speaks French fluently ;-)
Booly usually lays on my knees. He miaows at night & throws up when he eats too fast.



99 : Well, mostly good things...
We have a few songs on a few CD compilations, & a CDep is out on Radio Khartoum...
Picture of a Lost Friend:
1. The Golden Castle
2. Alcatraz Avenue
3. Back & Safe
4. L'Ennui
5. Dans le Train
6. I Could Never Run that Fast



June 98 :I'm now recording Direct-to-Disk (with my computer), so I'm sure the sound will even be better on future releases. But of course, there's no great song without great tunes, while there are great songs without great sound. But a good sound helps.

November 97. The songs on our 1st CDep, out on Blackbean & PTC are:
1. Sur le Quai
2. L'Appareil à Sous (Serge Gainsbourg)
3. Les Reflets
4. Un Peu de Moi
5. For Awhile
6. Dans l'Ombre
7. The Midnight Song, part II
8. L'espace d'un Instant
9. Les reflets (version aquatique)

L'Appareil à Sous is a Serge Gainsbourg's cover, & it's a split song with Gypsophile.


On a more personnal side, Antoine is born (5/11/97)... Yes, he's a baby...

My other band, Mumbly, had its 1st Cdlp out in December 97 on Marsh Marigold.

I have (nearly) all songs ready for the next Cdep on Radio Khartoum, but I still don't know which ones will be on (yet, I guess.)... It is just sure that there will be some quieter, slower songs on this one, but some upbeat ones too. I'm now quite good at using my 8 tracks machine, so the sound should be slightly improved. So expect something very pop too, but more diverse...




home